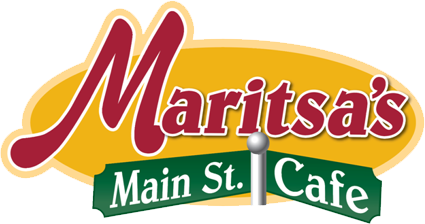 BANQUET INFORMATION & MENU
Book our private room for upcoming events. Great for family get togethers, corporate lunches, high school reunions, Board meetings for organizations, and other private events. Our private room Holds upto 20 guests, and you can order right off the menu.
A $25 room charge secures date and time, and that is good for about 2 hours, as long as all guests order a meal from menu. If you would like the room for longer than two hours an extra room charge may apply.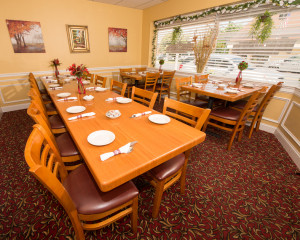 Will my party be private?
We have two rooms that are available for private parties; Our banquet room can hold approximately 54 guests
And our Conference room can hold 16-20. Both rooms allow for private parties.
When are the rooms Available?
The banquet room is available for private parties Monday-Friday anytime that we are open which is normally 7am-8pm Monday we are open 7am-2pm, however we can accommodate after hours party on Monday after 2pm.
Saturday morning we can do 7am-12pm for any breakfast event.
Since Saturday is a popular day to have parties, we try and have two time slots available 1pm-4pm and 5pm-8pm.
Off course if banquet room is vacate we are flexible with these time slots as well.
Funeral luncheons are the exception since they are typically reserved at the last minute.
If you like to have a party on Sunday it would have to be at 2pm, which is considered an afterhours party.
See below for clarification.
Can my party be booked after hours?
Yes, we can have an afterhours party, for instance Sunday after 2pm or Monday after 2pm.
However, with an afterhours party we would need a 40 guest minimum, and there would be an additional room charge to operate an afterhours event. The room charge will vary depending on duration or party, time of event, how many guests, and what menu selection you choose. It could be anywhere from $50-$200 room charge.
How do I reserve a room?
All parties are booked on a first come basis. We require a $50 deposit to reserve the banquet room and that is a credit which will be applied to final bill.
The smaller conference room we do a $25 room charge and that serves as the deposit, that is for a two hour event.
Once you reserve the room we will turn down any parties that try and book on the same date/time and in turn your deposit is non refundable. In the event of an extreme circumstance we may at our discretion apply your $50/$25 credit toward a future party.
Can I bring my own cake?
Yes, you may bring a cake and we will gladly cut and serve it to you.
Can I bring in alcohol?
Yes, you may bring in wine or beer. We have wine glasses and we will be happy to chill your adult beverages in an ice bucket. You are more than welcome to drop off alcohol or cake prior to party.
Can I show up early to set-up?
Yes, you may show up 30-60 minutes prior to the event start time to set up centerpieces and decorations. We do not allow confetti and glitter due to difficulties with its cleanup. If you are the 1st party of the day, or if no other parties are prior to yours we may allow you to come in even earlier. Please check with management to see if you may come earlier.
Do you have any electronics we can use?
We have a DVD player and a TV in our banquet room. You may bring an ipod or CD player if you wish.
How is my final bill determined?
Your final head count and menu selection is due at least 2 days prior to the event; with the exception of funerals.
We will prepare food for this amount and base your bill off of those numbers. No credits will be applied for patrons who do not attend or eat. Your price per person will depend on the menu you choose.
Can I still reserve the banquet room, if I can't meet the minimum guest requirement?
In order to do that we do ask for a room charge to cover the operating costs of the banquet room.
Typical room charge would be $50-$200 and that would depend on duration of event, time of event, number of guests, and menu selection.
What payments do you accept?
We accept and prefer cash and checks , however we do also accept Visa/MasterCard, Discover, and American Express. Payment is due prior to or the day of the event.
Breakfast Buffet
Package 1 $19.99 P/P
-Scrambled Eggs
-Idaho Potato Home Fries
-Sausage Links
-Sliced Bacon
-Buttermilk Hotcakes (Blueberry or Chocolate $1 extra)
-Assorted sliced bread & jelly (white, wheat, or rye)
-Fruit Salad
-fresh coffee, hot tea, apple juice, orange juice, milk
Enhancements
-additional breakfast meat $2 p/p
– mini- muffins or Danish $1 p/p
– table linens $1 p/p
-napkin linens $1 p/p
All packages subject to NJ sales tax & 18% service charge
This menu is a guide to help you plan your next event.  We are not limited to these items, if you would like something that isn't on the menu, please ask us and we may be able to accommodate you.  Maritsa's is a BYO (wine or beer) friendly establishment. We do not charge a corkage fee, and we can supply wine glasses upon request.  Maritsa's does allow patrons to bring in outside cake from a certified commercial kitchen and we do not charge a cutting or plate fee per person. The prices above reflect approximately a 2-3 hour event with 20 minimum guests. To guarantee large banquet room a minimum of 35 guests are required.  However if no other party is booked for that day, we can put less than 35  in banquet room.  Prices may vary for anything considerably longer than 2-3 hours.
Normal hours of operation: Tues-Sat. 7am-8pm, Sun.-Mon. 7am-2pm. We allow you to decorate room, however, NO GLITTER or CONFETTI. Prices also subject to change please call  for latest menu version
Buffet
$24.99 P/P
Two entrees, two sides, one salad, one dessert, unlimited fountain beverage, coffee & tea, bread & butter
Entrée Choices: Choose (2)
Chicken Parm, Chicken Cacciatore, Chicken Marsala, Roast Pork, Chicken Broccoli,
Eggplant Parm, Salisbury Steak, Stuffed Shells, Meatballs, Hot Turkey,
Penne & Broccoli, Hot Sausage Peppers & Onions, Cheese Ravioli
Premium Entrees:
Shrimp Scampi, Shrimp and Scallops Sauté, Shrimp Fresh Spinach & Rice Saute, Broiled Crab Cakes, Broiled Stuffed Shrimp
(Add $5 p/p per choice)
Pasta & Sides: Choose (2)
           Penne, Linguini, Vegetable Medley Mix, Sautéed String Beans, Penne ala Vodka,
    Mashed Potatoes, Baked Ziti, Rice, Cole Slaw, Roasted Red Bliss Potatoes
Choice of salad: Choose (1)
Caesar, Garden, Pasta Salad
Dessert: Choose (1)
Rice Pudding, Bread Pudding, Ice Cream
Enhancements
-add soup $2.50 p/p
-additional side $2 p/p
-additional entrée $3 p/p
– table linens $1 p/p
-napkin linens $1 p/p